James F. Bracher, architect for the renewal of integrity-centered leadership says, "Integrity-centered leadership is the only reliable foundation for long-term success!"
Is your enterprise anticipating growth and organizational transition?
Does your culture value people and superior leadership?
Will you participate, directly, in improving team dynamics?
The Bracher Center delivers high-speed, accurate and effective leadership counsel to: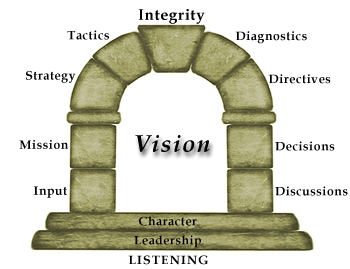 Integrity is the keystone of leadership. It is reflected in discussions, decisions, directives and diagnostics. Leadership emerges from listening, demonstrates character in behavior, and leverages energy with integrity. Integrity is the stabilizing factor that sustains effort and causes energy to create the canopy for accomplishment. Integrity enables the achievement of Vision.
To find out more about the Integrity Arch,
Click Here
.
To maintain our own balance between self-interest and social responsibility, we provide free access to relevant Resources related to our work.
Search Bracher Center for Integrity in Leadership:

Click to save this site in your favorites
Home Page | About Us | Services | Resources | Contact Us