Integrity Matters
January 16, 2008
Clear brand beats hard times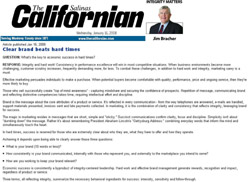 Question: (E-326)
What's the key to economic success in hard times?
Response:
Integrity and hard work! Consistency in performance excellence will win in most competitive situations. When business environments become more challenging, customer scrutiny increases, frequently demanding more, for less. To combat these challenges, in addition to hard work and integrity, marketing savvy is a must.
Effective marketing persuades individuals to make a purchase. When potential buyers become comfortable with quality, performance, price and ongoing service, then they're more likely to buy.
Those who sell successfully create "top of mind awareness" - capturing mindshare and securing the confidence of prospects. Repetition of message, communicating brand and reflecting distinctive competencies takes time, requiring intellectual effort and discipline.
Brand is the message about the core attributes of a product or service. It's reflected in every communication - from the way telephones are answered, e-mails are handled, support materials presented, invoices sent and late payments collected. In marketing, it is the combination of clarity and consistency that reflects integrity, leveraging brand for success.
The magic in marketing resides in messages that are short, simple and "sticky." Succinct communications confirm clarity, focus and discipline. Simplicity isn't about "dumbing down" the message. Rather it's about remembering President Abraham Lincoln's "Gettysburg Address:" combining everyday words that inform the mind and simultaneously touch the heart.
In hard times, success is reserved for those who are extremely clear about who they are, what they have to offer and how they operate.
Achieving it depends upon being able to clearly answer these three questions:
What is your brand (10 words or less)?
How consistently is your brand communicated, internally with those who represent you, and externally to the marketplace you intend to serve?
How are you working to keep your brand relevant?
Economic success is consistently a byproduct of integrity-centered leadership. Hard work and effective brand management generate rewards, recognition and impact, regardless of product or service.
Three terms, all reflecting integrity, summarize the necessary behavioral ingredients for success: intensity, sensitivity and follow-through.