Integrity Matters
December 19, 2007
Here are 5 tips to help find that perfect job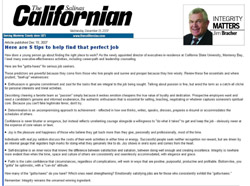 Question: (E-320)
How does a young person go about finding the right place to work?
Response:
As the newly appointed director of executives-in-residence at California State University, Monterey Bay, I lead many executive-effectiveness activities, including career-path and leadership counseling.
Here are five "gotta-haves" for serious job seekers. These predictors are powerful because they come from those who hire people and survive and prosper because they hire wisely. Review these five essentials and where prudent, "beef-up" weaknesses:
Enthusiasm is genuine commitment and zeal for the tasks that are integral to the job being sought. Talking about passion is fine, but avoid the term as a catch-all cliché for personal interests and trivial activities.
Describing cheering a favorite team as "passion" simply because it evokes emotion cheapens the true value of loyalty and dedication. Prospective employers want and need a candidate's genuine and informed exuberance, the authentic enthusiasm that is essential for selling, teaching, negotiating or whatever captures someone's spiritual core. Because you can't fake legitimate fervor, don't try.
Determination is an uncompromising approach to achievement - reflected in how one thinks, writes, speaks, dresses, prepares a résumé or accommodates the schedules of others.
Confidence is never bluster or arrogance, but instead reflects unrelenting courage alongside a willingness to "do what it takes" to get and keep the job - obviously never at the expense of core values or laws.
Joy is the pleasure and happiness of those who believe they get back more than they give, personally and professionally, most of the time.
Individuals with real joy seldom discuss the costs of their work activities in either time or energy. Successful people seek neither recognition nor reward, but are driven by an internal gauge that registers high marks for doing what they genuinely like to do. Joy shows in one's eyes and comes from the heart.
Self-discipline is an inner voice that knows the difference between satisfaction and satiation, between doing well enough and creating excellence. Integrity is nowhere more evident than when the time, space and culture of others are consistently and seamlessly accommodated, with elegance and grace.
Faith is the calm confidence that circumstances, regardless of complications, will work in ways that are positive, purposeful, productive and profitable. Bottom-line, you "gotta" be optimistic, with a "can-do" attitude.
How many of the "gotta-haves" do you have? Which ones need strengthening? Emotionally satisfying jobs are for those who consistently exhibit the "gotta-haves."
Remember: Integrity remains the unnamed winning ingredient.