Integrity Matters
December 12, 2007
CSUMB cagers show integrity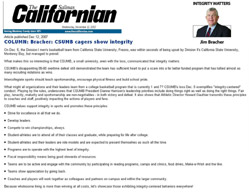 Question: (E-323)
On Dec. 5, the Division I men's basketball team from California State University, Fresno, was within seconds of being upset by Division II's California State University, Monterey Bay, but managed to prevail.
What makes this so interesting is that CSUMB, a small university, even with the loss, communicated that integrity matters.
CSUMB's disappointing 85-80 overtime defeat still demonstrated the team has sufficient heart to put a scare into a far better funded program that has tallied almost as many recruiting violations as wins.
Intercollegiate sports should teach sportsmanship, encourage physical fitness and build school pride.
What might all organizations and their leaders learn from a college basketball program that is currently 1 and 7? CSUMB's loss Dec. 5 exemplifies "integrity-centered" conduct. Playing by the rules, underscores that CSUMB President Dianne Harrison's leadership priorities include doing things right as well as doing the right things. Fair play, tenacity, maturity and sportsmanship are non-negotiables - in both victory and defeat. It also shows that Athletic Director Howard Gauthier transmits these principles to coaches and staff, positively impacting the actions of players and fans.
CSUMB values support integrity in sports and promotes these principles:
Strive for excellence in all that we do.
Develop leaders.
Compete to win championships, always.
Student-athletes are to attend all of their classes and graduate, while preparing for life after college.
Student-athletes and their leaders are role models and are expected to present themselves as such all the time.
Programs are to operate with the highest level of integrity.
Fiscal responsibility means being good stewards of resources.
Teams are to be active and engage with the community by participating in reading programs, camps and clinics, food drives, Make-a-Wish and the like.
Teams show appreciation by giving back.
Coaches and players will work together as colleagues and partners on campus and within the larger community.
Because wholesome living is more than winning at all costs, let's showcase those exhibiting integrity-centered behaviors everywhere!