Integrity Matters
September 12, 2007
Pay child support or no passport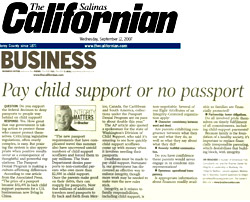 Question: (E-307)
Do you support the federal decision to deny passports to people way behind on child support?
Response:
Yes. How great that our government is taking action to protect those who cannot protect themselves. Criticizing legislative regulations, often overly complex, is easy. But praising the system is also appropriate when positive results occur as a consequence of thoughtful and powerful regulations. The Passport Denial Program is making a culture-affirming difference.
According to one article from the Associated Press, "The price of a passport became $311,491 in back child support payments for a U.S. businessman now living in China.
"The new passport requirements that have complicated travel this summer also have uncovered untold numbers of child support scofflaws and forced them to pay millions. The State Department denies passports to non-custodial parents who owe more than $2,500 in child support. Once the parents make good on their debts, they can reapply for passports. Now that millions of additional travelers need passports to fly back and forth from Mexico, Canada, the Caribbean and South America, collections under the Passport Denial Program are on pace to about double this year."
The AP article also quoted a spokesman for the state of Washington's Division of Child Support, who said it's amazing to see how quickly child support scofflaws come up with money when it involves needing their passports.
Deadbeats must be made to pay child support. Fortunately, our government has discovered an effective way to enforce integrity, though more work may be needed to make sure the new rules stick.
Integrity, as it relates to family responsibilities, including child support, is non-negotiable. Several of our Eight Attributes of an Integrity-Centered organization apply:
Character: consistency between word and deed.
Are parents exhibiting congruence between what they say and what they do, as well as what they say about what they did?
Honesty: truthful communication.
Do you have confidence these parents would never engage in or condone misrepresentation?
Openness: operational transparency.
Is appropriate information about finances readily available so families are financially protected?
Partnership: honor obligations.
Do all involved pride themselves on timely fulfillment of all commitments, including child-support payments?

Because family is the foundation of a healthy society, it's important to replace financially irresponsible parenting, which destabilizes that building block, with integrity.