Integrity Matters
June 13, 2007
Credentials require academic integrity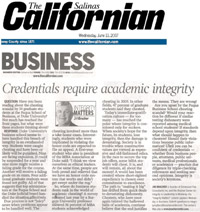 Question: (E-296)
Have you been reading about the cheating scandal by 34 graduate students at the Fuqua School of Business, at Duke University? Not much has reached the front pages, but what were these students thinking about?

Response:
Duke University's business school seems to have handled this breach of integrity in an evenhanded way. Students were caught cheating and have been or likely will be punished. Nine are facing expulsion, 15 could be suspended for a year and nine more might receive a failing grade for the course. Another will receive a failing grade on an exam. Four additional graduate students were found not guilty. All of that suggests that top administrators at the Fuqua School and the Duke judicial board handled the situation effectively.
Due process is not "juicy" news when problems appear to be handled well. The cheating involved more than a take-home exam. Interestingly, students who were implicated in violating the honor code are expected to file an appeal. A first-year student who also is president of the MBA Association at Duke said: "I think we view ourselves as ethical leaders. At the same time, people are both proud and relieved that we have an honor code system that works and didn't get swept under the rug."
So, where do business students rank in the world of academic cheating? A survey released last year by a Rutgers University professor showed 56 percent of MBA students acknowledged cheating in 2005. In other fields, 47 percent of graduate students said they cheated.
Today's immediate-gratification culture - for too many - has reached the point where integrity is considered only for suckers. When society's hope for the future, its students, lose integrity, then the damage is devastating. Society is in trouble when constructive values are viewed as expensive and old-fashioned relics. In the race to secure the top job offers, some MBA students will cheat. It is, and will remain, all about the money! A world has been created where short-sighted expediency is chosen over commitment to excellence. The path to "making it big" has drifted from quick deals to devastating dishonesty. Cheaters, who have once again tainted the hallowed halls of academia, continue believe that the end justifies the means. They are wrong!
Are you upset by the Fuqua Business School cheating scandal? Would your reaction be different if similar testing dishonesty were reported among medical school students? If standards depend upon integrity, then what should happen to cheaters? Should their violations become public information? Until you can be confident of credentials - whether from business people, attorneys, public servants, medical professionals or academics - practice due diligence by triple-checking references and seeking second opinions. Integrity is society's keystone.