Integrity Matters
February 21, 2007
Success measured over long haul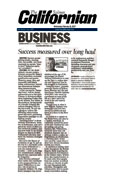 Question: (E-279)
Dear Jim:
Success means getting results, creating sales and profits. Isn't your emphasis on certain "nice-to-have" behaviors naïve and unrealistic?

Response:
For the short-sighted, you are correct, because success for them is about immediate economic gratification and power. However, many wise and successful individuals define achievement beyond one-dimensional balance-sheet measurements.
A first-run movie, "Amazing Grace," will be shown nation-wide, and at the Osio Cinema, in downtown Monterey, beginning on Friday. One of our friends, Ken Wales, is the producer, having invested a decade bringing this culture-changing story to the big screen. He and his colleagues believe life-affirming values trump greed and merit presenting responsible messages to our drifting society.
"Amazing Grace" is about William Wilberforce, Member of Parliament, who navigated the world of 18th-century backroom politics, ending slave trade in the British Empire on March 25, 1807. Parliament's decision shattered the business strategies of many.
Elected to the House of Commons at the age 21, and on his way to a successful political career, Wilberforce, over the course of two decades, took on the English establishment, making himself into a genuine hero for humanity.
John Newton, reformed slave-trader and confidante to the young politician, inspired Wilberforce to pursue a life of service to humanity. William Pitt, England's youngest ever prime minister at the age of 24, encouraged his friend William Wilberforce to take up the fight to outlaw slavery and supports him in his struggles in Parliament.
"Amazing Grace," presents powerful stories of Wilberforce, Newton and Pitt and introduces Olaudah Equiano (1745-1797) who wrote an eyewitness account of his life as a slave and of his work in the anti-slavery movement.
Though born in what is now Nigeria, Equiano was kidnapped and sold into slavery in childhood and taken as a slave to the New World.
As a slave to a captain in the Royal Navy, and later to a Quaker merchant, he eventually earned the price of his own freedom by careful trading and saving. Equiano, like Wilberforce, stood for more than just abolition. Equiano was an African, a slave, a sailor, an Englishman, an abolitionist, a Christian, a writer who used his many titles to show how slavery brutalizes society as a whole.
In addition to ending slave trade throughout the British Empire, likely inspiring the Emancipation Proclamation in the United States, Wilberforce also wanted society to be more civil. How people treat one another is critical at home, on the job, in politics and throughout daily activities. Thoughtful individuals strive first to understand; even before seeking to be understood, and they succeed frequently. Integrity-centered behaviors, including character and graciousness, generate trust, confidence, relationships, productivity, and, yes, profits.