Integrity Matters
February 7, 2007
Let's work to replace 'greatest'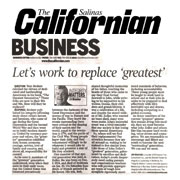 Question: (E-276)
Dear Jim:
Tom Brokaw extolled the virtues of dedicated and hardworking Americans in his book, "The Greatest Generation." These folks are now in their 80s and 90s. How will they be replaced?

Response:
Brokaw published his integrity-affirming study about citizen heroes and heroines, who came of age during the Great Depression and the Second World War and then went on to build modern America. United by common purpose and values, the "greatest" generation exhibited duty, honor, economy, courage, service, love of family and country, and, above all, responsibility for oneself.
As he sees it, members of the "greatest" generation understood, even when they were in their early teens, that the United States was balanced precariously between the darkness of the Great Depression and the storms of war in Europe and the Pacific. They knew the events surrounding them were critical to the shaping of their nation and the world, equal to the revolution in 1776, and the perils of the Civil War. Young people knew their duty, and they volunteered willingly to do whatever it would take to build and preserve a way of life they admired.
One member of that special generation was John A. Zoller. He was born on Dec. 5, 1924, and died of leukemia on Jan. 30. On Saturday, hundreds of friends gathered in his honor. His son, Bob, shared thoughtful memories of his father, touching the hearts of those who came to say their final formal farewell to John, while striving to be supportive to his widow, Donna, their children and grandchildren. It was a celebration of a life, and despite the stated wishes of Mr. Zoller, who wanted no tears shed, many eyes were moist. John's memorial event was a vivid reminder that our society is fast losing these special Americans.
So, where will we find their replacements? Pay attention because they are all around us, waiting to be trained to live similar lives. Like those of John Zoller's "greatest" generation, galvanized by sacrifice and dedication, today's youth desperately need caring parents and conscientious teachers who will provide appropriate types of tough love alongside rigorously monitored standards of behavior, including accountability. These young people must be taught to work hard in school and at their jobs in order to be prepared to deal effectively with life's inevitable ups and downs, including competing in a global economy.
As fewer members of the current "greatest" generation remain living role-models, then we must become what John Zoller and others like him became: hard working, value-driven and courageous. We are responsible to encourage and direct our youth to become the next "outstanding" generation. We can and we must.