Integrity Matters
January 17, 2007
Coaches show class, respect unlike Rosie, 'The Donald'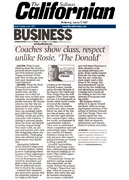 Question: (E-273)
Dear Jim:
What is your thinking about the vicious personal attacks hurled back and forth between Donald Trump and Rosie O'Donnell? How do they get away with such immature and cruel behavior?

Response:
When the Rosie O'Donnell and Donald Trump feud became a media event, my first response was to feel sad that they were, by their poor examples, encouraging despicable behavior. My second concern was that way too many people were paying attention to their antics. How can seemingly intelligent individuals, with high visibility, wealth and power, rationalize rude behavior - sinking to personal attacks about the looks and lifestyle of another human being? Very early in life, my parents and teachers were clear that denigrating others was unacceptable. Challenging ideas was admired, but personal attacks were forbidden.
Appropriate behavior never included using racial or cultural epithets, certainly never humiliating others because of their appearance. If Rosie and "The Donald" were in kindergarten, they would be disciplined and given a time out, possibly with an additional restriction to stand in the corner.
Contrast their immature and destructive actions with the admirable behavior of two high-profile head coaches in the National Football League: Seaside native Herman Edwards of the Kansas City Chiefs and Tony Dungy from the Indianapolis Colts. Their teams met Jan. 6 in Indianapolis to decide which would continue toward the championship. The two coaches greeted each other warmly before the start of the winner-take-all game, and, at the end they again showed their mutual respect with a few words, accompanied by a gentlemanly embrace. They seem to understand where competition ends and relationships begin. Thank you, coaches, for demonstrating to young and old, rich and poor, that respect and graciousness are central to living a good life.
As public personalities, Edwards and Dungy honor their additional responsibilities beyond chalking up victories: They exhibit appropriate behavior.
O'Donnell and Trump are publicity-seeking moguls who masterfully use the media. Perhaps the purpose of Trump's "hyped hurt feelings," when he pounced on Rosie's slurs about him and his business enterprises, was to create a controlled and well-timed firestorm to draw attention to his upcoming television program. Rosie readily jumped back into the fray, sensing that her own week-day show might need a little boost in the ratings. She then immediately capitalized on the free marketing and advertising provided by a market-savvy media all too willing to feed the base interests of its gossip-seeking public.
My Integrity Matters advice is to ignore Donald and Rosie while encouraging frequent imitation of the actions of Herman Edwards and Tony Dungy. These two coaches appreciate that integrity-centered relationships, built on character, graciousness and honesty, matter in private and public.