Integrity Matters
January 10, 2007
Colleges chase learning curve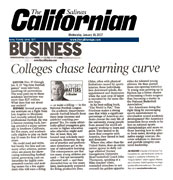 Question: (E-272)
Dear Jim:
Dec. 19, through Jan. 8, 32 "big-time football games" were televised, involving 64 universities. The total amount paid out to these academic institutions was more than $127 million. What does this say about our society?

Response:
Several years ago my seatmate on a flight from Los Angeles to Monterey had recently-retired from professional football. He was a famous running back, having attended a major university in southern California, for five years, and academically-eligible to play on their top 10 team for four.
He could read and write, but barely. For him and too many other athletes, universities are places for showcasing outstanding football talent, generating cash on Saturdays for highly compensated coaches and making names for a few superstars who will earn a living - or make a killing - in the National Football League.
Do academic departments outside football benefit from these large incomes and celebrity coaching programs? Yes. Do many athletically-gifted youngsters gain access to higher education who might not otherwise? Yes. At least, they are housed near scholarly-environments. However, the rigors of practice and performance sometimes get in the way of substantive learning. The consequences are that young athletes are used - but not necessarily educated well, and then discarded, four or five years later, inadequately prepared for living productive lives. Older, often with physical limitations caused by sports injuries, these individuals face downward spirals, disappointment and depression while the next crop of talent is recruited by the same illusive hope.
In his best-selling book, "The World is Flat," Tom Friedman makes a strong case that while a significant percentage of American students choose the easy life of the university, young people from around the world are eagerly working to learn and grow. They intend to do more than compete with America, they intend to lead and dominate.
Where else, other than the United States, does an entire nation appear to deify college athletes? Former Georgetown University Head basketball Coach John Thompson, speaking at a Nike coaches' clinic, reminded attendees to not oversell the golden opportunities for talented young athletes. He then quoted these eye-opening statistics: "A young man growing up in Harlem has a better chance of becoming a brain surgeon than becoming a starter in the National Basketball Association."
Are Americans doing the right thing by encouraging sports-entertainment to overshadow sound academic development? No! America's immediate focus needs to be less on national sports championships and more on those learning how to deliver fresh water, develop alternative energy sources, discover solutions to diseases and provide integrity-centered leadership.