Integrity Matters
September 21, 2005
Find a way to reach out to those in need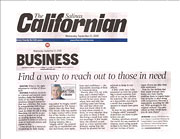 Question: (E-206)
Dear Jim:
What is the right response to victims of disasters?

Response:
Political, economic, cultural and natural catastrophes shake the foundations of our lives, creating emotion-charged memories that last a lifetime. But merely sympathizing with those affected is not enough. We must do what we can to help. Reaching out can be as personal as prayer or as public as sending money, being available to listen or serve in ways to heal and restore safe places to live.
I was struck by a watercolor painting by Sally Smith, one called "A Dinghy Adrift" and inspired by 9/11. Immediately after the New York City attack, Sally was unable to make contact with a member of her family, a teacher whose classroom was very near to the Twin Towers. Feeling helpless, like a "dinghy adrift," she painted until she re-established contact and found, once again, hope and confidence - the dependable mooring of family communication.
Shortly after 9/11, my wife, Jane, and I visited Sally's gallery in Carmel and were moved by her story about when, how and why the painting came into being. She said that when one does not know what to do to help those closest to them, or even whether they are alive or dead, it feels like being a small boat without moorings. A few weeks later, she phoned us and paid us a very special compliment, saying that she would be pleased for her artwork to hang in our offices.
A little while later, Sally presented us with her painting, a visual reminder that each of us can be a lifeline for someone. We can serve as a dependable mooring in a world that sometimes appears to simply have gone mad.
So how do you avoid being "a dinghy adrift" yourself? Sometimes you have to give before you get.
Victims, anywhere around the world, for any number of reasons, need caring people to find to be there for them, not just victims of hurricanes. If you are able, then offer assistance.
Pray for the victims that they might manage their losses and their health, enabling them to regain hope that integrity is alive along with compassion. Become a dependable mooring for others. With apologies to the original writers: "Do unto others as they would have you do unto them."