Integrity Matters
August 3, 2005
Wells Fargo Bank's integrity in question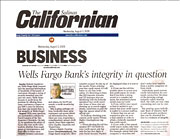 Question: (E-199)
Dear Jim:
Federal regulators say Wells Fargo Bank jeopardized the personal information of hundreds of thousands of customers through a string of security breaches over the past two years. Wells Fargo intends to profit from the problem by offering those same customers a chance to pay $140 a year for information they can receive free. Is this integrity at Wells Fargo?

Response:
With your question, you forwarded a column by David Lazarus of the San Francisco Chronicle. On July 22, he questions the ethics of those who lose credit information, whether from negligence or incompetence, and then offer to these same 700,000 violated customers and others, for $12.99 per month, a credit monitoring service.
This is gutsy, perhaps callous. Ironically, these same customers can access identical information free, three times per year, requesting a complimentary annual credit report, from these organizations: Equifax, Experian and TransUnion.
Privacy Rights Clearinghouse (www.privacyrights.org), San Diego-based nonprofit, offers valuable counsel. Its July tip of the month: When ordering your free credit report, it's still better to call than order online. It's disturbing to learn that 100 imposter domains and 233 imposter sites are interfering with the federally mandated free credit report site. Some of these sites are showing up in search engine results, sometimes as paid listings that appear ahead of the official site.
To facilitate obtaining your current credit report, Privacy Rights Clearinghouse suggests:
When phoning the toll free number (877-322-8228) for your credit report, ask that only the last four digits of your Social Security Number be displayed when it is sent to you.
If you use the toll-free number above to access your free credit report, be aware that if you have a strong accent or a complex last name, the automated phone system may not work.
If you call for your report or have it mailed to you, ensure that your credit report is mailed to a secure mailbox.
Know that you are not required to give out your e-mail address in order to obtain a federally mandated free credit report.
If you order a free annual credit report online, take basic computer safety precautions. For example, ensure that your computer is virus-free and don't order your reports from a public computer or from work.
Individuals need current credit information for economic protection. Because of the growing cottage industry called identify theft, the risks are real, time consuming and can be costly.
But preying upon individuals' fears of identity theft to sell expensive products that can be obtained for free is a violation of integrity.