Integrity Matters
September 1, 2004
Raiding former employer's workers poor business choice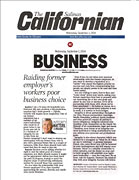 Question: (E-133)
Dear Jim:
I am a 34 year-old hospitality professional. My new position, a big promotion, requires that I drive growth -- rapidly. Growth will require more employees. One of my former employers has a number of talented individuals who could be of great value to me in my new job. Is it a violation of integrity for me to hire from my former company? I don't want to destroy my relationship with my former boss, who is also still a personal friend. But in a couple of instances, folks from there already have indicated that they do want to join me.

Response:
Because you're asking whether it's right to raid the talent pool of a former employer, you likely already suspect it might not be appropriate. Before you head down the path of progress, hoping to avoid the slippery slope of self-serving selfishness, answer for yourself these four questions:
Do you value the relationship with your former employer? If so, then consider approaching the person, directly, and clarify your moral dilemma.
Even if you do not value your personal relationship with this former employer, do you want to develop a reputation as a "raider" who places the highest priority on success and cash flow, communicating that people are simply pawns to be used and then tossed aside?
Are you willing to meet, face-to-face, and "come clean" about your needs, asking your former supervisor how best to proceed without destroying his or her own goals and plans? In one way or another, we're all in partnership with those with whom we've been associated -- for better or worse. As a consequence, because every industry is really small, it is unwise to burn bridges.
Integrity is about partnerships throughout our lives. Honest partnerships (marriage, family, friendship, political, social, business and even spiritual) require all parties to honor obligations. Integrity-centered relationships pride themselves on the timely fulfillment of all commitments, legal and moral. Therefore, your future as an integrity-centered individual is being established by how you address your personal and professional goals.
Integrity is also about character, which was defined by a youngster as "what we do when no one is watching." A genuine business friend, who cares about you, will be honored by your forthrightness and will respect your honesty. Talent is a valuable commodity in every industry, and the desire on your part to build integrity will establish your legitimate leadership -- over the long haul. Be up front. Ask for support. Treasure the relationship with your integrity. Success will follow.