Integrity Matters
July 21, 2004
Williams, after losing, proves she's a champ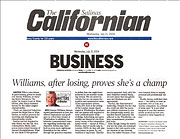 Question: (E-124)
Dear Jim:
What a nice lesson in graciousness, given by tennis star Serena Williams, in showing Maria Sharapova "the ropes" in Centre Court at Wimbledon, after Maria defeated Serena for the ladies singles' championship.
There are expected behaviors toward the Royal Box at Wimbledon, as well as protocol for receiving and displaying the championship trophy.
Serena was not required to help Maria, but she did. As a consequence, Maria came across more poised because of Serena's thoughtfulness. What do you think of this gesture?


Response:
Serena Williams demonstrated graciousness in how she offered reassurance and guidance to a first-time winner at Wimbledon. In addition, her behavior communicated maturity regarding leadership and character. Serena may have built an even more legitimate foundation for her career through her gracious response in defeat than she might have achieved in yet another crushing victory. We can never be certain, but we can assess the positive and constructive value of her appropriate actions.
First, let's look at the setting of the London tennis classic staged at Wimbledon. Nowhere else are players still required to wear predominantly white clothing. Advertising and sponsorship are blasted at you from every corner of the competitive tennis world -- except at Wimbledon. And of course only in London, SW19, do they still play lawn tennis on grass. So, yes, tradition is important. Tastefulness is expected. And, with Serena's behavior toward Maria, we now know that thoughtfulness and kindness are also appropriate.
Second, she demonstrated leadership. Despite the fact that she could not rally the necessary athletic resources to win the championship match, she handled herself maturely. She adhered to the Wimbledon culture, commitments, promises and rules.
Even though losing the match was not her plan, she remained honest to her own sports code, not because of any external force, but rather because of her own internal drive to sustain personal and professional values.
Finally, Serena exhibited character -- the ability to treat an opponent, win or lose, as a worthy competitor. As a friend of mine says: "It is not what happens to you that matters nearly as much as how you respond to what happens to you."