Integrity Matters
June 16, 2004
New York attorney general targets drug firm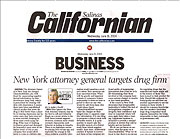 Question: (E-121)
Dear Jim:
The Attorney General of New York has charged GlaxoSmithKline, plc, with fraud for suppressing negative factual information on their blockbuster drug Paxil, which is prescribed for treating children with depression. It seems there have been unpublished clinical studies that show the drug is little better than a placebo in treating depression and in some cases may have even led to more suicidal thinking by those same youth using the drug. What type of thinking (collusion, greed and disregard for humanity) must exist in the higher levels of this or any company that would allow harm to come to children simply to make a buck?

Response:
Eliot Spitzer, the New York Attorney General, may be the first to call such behavior illegal, as a recent article in the Wall Street Journal suggests. However, common sense would certainly characterize such behavior as lacking in integrity. There is no legitimate excuse for placing lives (of any age, and especially the young) at risk when available scientific information would question a product's safety. Your questions ask in no uncertain terms: When will the greedy and impatient animals of commerce behave responsibly? Is there no limit to greed? Is there no one who would be safe from those who would abuse them?
GlaxoSmithKline's accuser bases the charges on their alleged steps to suppress negative information. It is one thing to promote a clinical study with favorable results. It is quite another to report only the favorable aspects of a clinical study from which negative results have been deliberately omitted. If Spitzer is correct and those at this company are found guilty of suppressing information that could be or is life-threatening, then those involved at this company have some serious charges to resolve or face harsh penalties.
If the courts in New York determine that irresponsible leadership is behind this lack of forthrightness, translate as integrity, then confidence and trust in corporate values will once again have taken a beating. Legitimate business is intended to provide a needed product or service that will be helpful and not harmful.
We do not yet know, as outsiders, what has gone on at GlaxoSmithKline. What we do know is that there is no excuse for supplying drugs that the manufacturer knew might add to the misery of those who have turned to their product for help. Should this company be found guilty, we will have yet another opportunity to see the wisdom in these words: It should be common knowledge that free markets (including large drug companies) must regulate themselves (by being responsible to their customers) or governments will.