Integrity Matters
May 19, 2004
Employee loses confidence with boss, move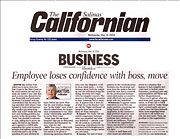 Question: (E-116)
Dear Jim:
My current boss asked me to move from the East Coast to the West Coast so he could mentor me and accelerate my career. I was clear that such a move was disruptive for me, financially and personally. However, I accepted with the commitment that the same hiring executive with whom I had wanted to work would personally conduct my mentoring. After only a few weeks into the new and exciting position, my mentor broke his promise. The "boss" has decided to relocate to Asia, asking me to move yet again. He knows my fiancée, and I agreed to a 3,000-mile separation for a year or even 18 months, but halfway around the world was and is out of the question. It's now obvious he knew before my move West that his own location change was "in the works" even when I directly asked about the longer-term commitment to our "mentoring" relationship, specifically, on the West Coast.
What does this say about integrity? Sign me as dislocated, abandoned and frustrated. So, now, what do I do?

Response:
Your story is filled with blank spots. And some attention needs to be given to answering questions related to your own due diligence, to fill in those blank spots -- in this instance about both the company and the individual doing the hiring. However, let's begin with the integrity concern. The answer to the integrity question is clear: Someone lied to someone. It appears that at least six of what we at the Bracher Center call the "Eight Attributes" of integrity have been violated. Here are three examples:
Unless or until these and other issues are addressed, you're in a situation that appears to lack integrity and could lead to further career frustration, emotional pain and understandable self-blame and further disappointment.
Once you've gained what you need from your current organization, or if they fail to fulfill promises made to "make things right" professionally and personally, then bid them farewell. Make notes regarding better questions to ask before you take the next move. Then, say goodbye to this organization.