Integrity Matters
April 28, 2004
Keeping business honest requires new laws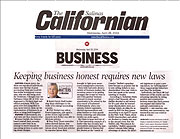 Question: (E-111)
Dear Jim:
Almost every day there are reports of individuals, many near the top of giant accounting firms and multibillion-dollar investment companies, who are still being cited for violations. I thought that the Sarbanes-Oxley bill of 2002 was supposed to fix these legal and ethical problems. Will Congress now feel compelled to pass more laws to clean up the misbehaviors of business in an effort to bring back integrity?

Response:
Unfortunately, yes. And here are four reasons why:
Janus Capital, the Denver-based mutual fund, recently named a new boss in an attempt to move beyond its upcoming actions to settle trading abuse charges.
Royal Dutch/Shell leadership faces challenges in the wake of its energy-accounting scandal.
USA Today's top editor, Karen Jurgensen, quit amid a probe of how high-profile reporter Jack Kelley was able to fabricate articles.
New York Times executive editor Howell Raines, was forced to step down after revelations about fraudulent articles by reporter Jayson Blair brought to light poor newsroom management practices.
Even with bad news about a variety of business leaders, the economy seems to be getting stronger. But it may be wise to ask if this gradual business rebound is simply another opportunity to be seized by the next round of hucksters? Unfortunately, when consumers, federal regulators, elected representatives and other leaders let their guards down, conniving and articulate crooks can strike again.
But there is hope and lots of it. One interesting example of a leader who has recently and successfully addressed the marginally honest is Warren Buffett, known as the "oracle of Omaha." Buffett's speeches have become so popular that he is now selling tickets to non-shareholders who may wish to hear him speak at his annual meeting in Omaha.
According to Berkshire Hathaway's chief financial officer, Buffett decided to sell tickets for $5 a pair after he learned some shareholders were auctioning tickets on eBay, for as much as $250 for four passes. According to an April 17 report in the New York Times, about 10,000 shareholders and admirers flocked to Omaha last year to the annual event that Mr. Buffett calls "Woodstock for capitalists." Buffett apparently doesn't tolerate folks taking advantage of others. He didn't ask legislators to pass a new regulation, he "self-regulated" these inappropriate behaviors and fixed the problem.
Individuals can blunt the bad behaviors of the crooks and the scheming minority by taking positive and constructive actions, every day. Each person can expand and extend the national conversation on integrity -- one reaction, one decision, one conversation, one transaction and one relationship at a time.