Integrity Matters
April 14, 2004
Questions You Should Ask An Employer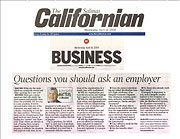 Question: (E-107)
Dear Jim:
What are the main questions somebody should ask when applying for a new job?

Response:
Here are a dozen questions that will clarify the environment and provide clues about the probable "fit" for you in a new position. If you're uncomfortable with any of the responses, you may want to consider continuing to look for the right position. Obviously, there can be circumstances that push back on one's luxury of finding the "perfect" job. However, when values are already at risk of having been compromised during the interview process, it unlikely the situation will improve with time. So be prepared to walk away if a healthy environment is what you are seeking. If you are simply looking for a place to put in hours and take a paycheck, you may not want to utilize this line of inquiry.
The 12 questions, for which "yes" to each one is important:
Can I fulfill the responsibilities outlined, at a level that is consistent with the expectations of the organization, in a timely way, with confidence?
Will the organization provide the resources and training that I need to be successful?
Will I be able to incorporate their values and organizational culture without compromising my own code of conduct and personal principles?
Will the organization and its products and services fit well with who I am and who I hope to become?
Will the organization support my efforts to continually learn and grow in capacity?
Will I be proud to join the firm and represent it to people I respect?
Does the person interviewing me reflect the Bracher Center's Eight Attributes of an Integrity-Centered Organization (character, honesty, openness, authority, partnership, performance, charity and graciousness)?
Is the individual able to answer, to my satisfaction, just how the organization operates, without any hesitation or seeming to structure responses to cover any unpleasant issues?
Do I trust the integrity of the interviewer?
Can I afford to work for the dollars they offer?
Are the benefits what I want?
Do those who already work there smile?
If integrity is important to you, and if integrity (really) matters to the company or organization you wish to join, then the likelihood of success, for all parties concerned, is greatly enhanced. Ask the 12 questions clearly and listen, very carefully, to the responses. You will then be in position to make the best decision.