Integrity Matters
February 4, 2003
Officers continue to show integrity
Police officers wish to restore the funds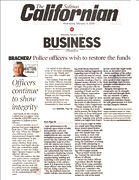 Question: (E-088)
Dear Readers:
Last week, in this column, I asked you to suggest ways to handle a $327,000 error in payment to Salinas police officers.
A clerical mistake of a 1.5 percent had gone unnoticed from Jan. 1, 2001, until late last year. When the mistake was addressed, police demonstrated integrity with their commitment to pay back what was owed. I asked whether there were gracious (and legal) alternatives the community might consider to ease any immediate financial impact on the affected officers.
Those who enforce the law (our police force) communicated that they were and are completely committed to following the law and will be paying back the money, but they certainly appreciated the outpouring of concern.
On behalf of the officers many of you have contacted, I want to say "thank you" for your calls, e-mails and interest.
Two leaders from the Salinas Police Officers Association have communicated to me about the positive impact on morale generated by your personal contacts and words of appreciation. Thank you for responding and for caring.
Encouraging those who provide security to our community is wise indeed.
Law enforcement is the bedrock upon which to build and maintain a safe and healthy environment. Safe neighborhoods also can help strengthen property values across the city. Likewise, when communities support police with fair salaries and respect, turnover in the department is likely to be diminished. Everyone understands that turnover is expensive. Replacing veteran officers is costly because it requires hiring, training and launching a new person into the business of law enforcement. It is important to keep those officers who have been, and are, doing a good job.
Yes, the feedback from last week's column was encouraging. Individuals responded positively, making suggestions regarding ways to help the officers avoid the need to return the overpayment. For a variety of reasons, creating a fund to channel money directly to the officers was determined not to be legal. The police officers have committed to the proper restoring of funds, and the Police Officers Association supports the decision.
So, what else might be done to sustain and even enhance the levels of effectiveness of the Salinas Police Department?
Thank members of the police force, in writing, by e-mails and in person, for doing their jobs even on those infrequent occasions when they might need to "regulate your actions" (when you might have forgotten to stop at a sign or when you might have been driving above posted speed limits).
Offer assistance to those officers who donate their own time, weekly, to work with youth in sports and physical fitness programs -- strengthening the confidence of young people while attempting to prevent negative images about law enforcement from continuing with younger people.
Share positive stories about the "beyond the call of duty" efforts of officers.
Contact the Police Officers Association directly through Officer Steve Long, president, 758-7131. In addition to saying "thank you," consider a tax-deductible contribution and ask if you might earmark your dollars for one of the many special needs that might assist those on the police force.
Invite members of the police force, through the Police Officers Association, to attend and even speak at your organization's meetings. Such forums promote communication that benefits everyone.
Integrity throughout the community can be strengthened with and through those who are stewards of safety, security and peace. When a community combines character with graciousness it is obvious that Integrity Matters.