Integrity Matters
March 19, 2003
Readers: We need your help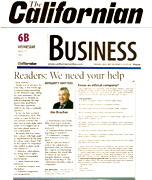 Dear Readers of INTEGRITY MATTERS (E-030)
Thank you, in advance, for your help. A few weeks ago, a coupon began appearing on the business page asking for your assistance.
We are asking you to identify an ethical company. We suggested nine guidelines. These nine questions address the way a company operates.
So far, we have received one nomination. Now, who wants to come in first in a one person activity? Further, who in their right mind wants to be singled out as the only ethical leader in our community? So, come on and let us know the names of those individuals who represent what is still right about leadership and ownership.
We know that you come into contact with high-quality organizations all the time. So, please lend a hand. Tell us the names of companies that exhibit positive qualities related to:
behavior (atmosphere for doing what is right)

charity (community involvement)

open (financial transparency)

gracious (respect and discipline)

authority (employee encouragement)

performance (accountability from top to bottom)

partnership (prompt bill payment)

unimpeachable (honest reporting of numbers)

consistency (congruence between word and deed)

Just in case you want to review the original nine questions, they are listed in the coupon shown lower on this page. We would like to report in our April 2, 2003, Integrity Matters column that the readership of the Californian identifies ethical companies.
JIM BRACHER is founder of the Bracher Center for Integrity in Leadership in Monterey. His column, "Integrity Matters," appears Wednesday on the Business page. Readers are invited to submit questions on business-related ethics and values. Please write in care of INTEGRITY to newsroom@salinas.gannett.com. The center's Web site is www.brachercenter.com.