Integrity Matters
December 26, 2002
Leaders such as Lott owe their followers integrity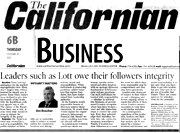 Question: (P-002) Trent Lott has apologized for his implied segregationist view. Many won't forgive him. Others insisted he should stay in power. Some Black Leaders were inclined to give him the benefit of the doubt. Still, the Republican political agenda was at risk. The stature of the Republican Party was at risk. In your view, what should be done to restore the integrity of the Party?

Response: The Trent Lott furor was created by a lack of accountability. The public conduct of those who are in leadership roles is subject to examination for consistency between and among actions, words, and responsibilities. When individuals in leadership positions exhibit behaviors that expose their flaws, they have undermined their leadership authority. In the business world, responsible boards of directors remove those executives. To retain them would expose the organization to unnecessary financial risk. Should we expect anything less from our elected officials?
Inconsistencies between words and deeds are human, quickly understood, and often forgiven with an apology. However, fundamental deficiencies raise serious questions. Can such individuals be trusted with responsibility—whether in spiritual life, business, or government? Leaders recognize when they have broken a trust, and take immediate steps to correct the problem. First, they acknowledge their mistakes. Second, they take corrective measures immediately. Finally, if leaders lose their followers as a result, the work for which they were responsible may be compromised, and they step down graciously.
Leaders step down out of respect to their followers and colleagues, and devote on-going efforts to repair the effects of their errors. Leaders mentor associates to help them avoid similar mistakes.
As a consequence, regardless of the profession, leaders owe their followers integrity - so that society can be sustained by a balance between self-interest and social responsibility. It is not only what you have done to get into trouble, but also what you do to get out of trouble that counts. There are consequences for mistakes…even for the powerful.

JIM BRACHER is founder of the Bracher Center for Integrity in Leadership in Monterey. His column, "Integrity Matters," appears Wednesday on the Business page. Readers are invited to submit questions on business-related ethics and values. Please write in care of INTEGRITY to newsroom@salinas.gannett.com. The center's Web site is www.brachercenter.com.