Integrity Matters
December 11, 2002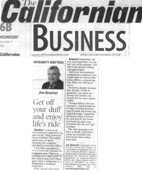 Get off your duff and enjoy life's ride

Question: (E-011) I went on an international assignment as part of my "high potential" cross training. The assignment was cut short because the company decided to close the office. I was then reassigned a lower-level job because the company said, "There is nothing open right now." It has been a year, and I have gone from a rising star to a disgruntled, demoted employee.
What should I do now?

Response: Sometimes we win and sometimes we finish "out of the money." Life and work involve taking calculated risks.
Had your international assignment continued, you might have re-entered the home office a conquering star. Now, we will never know.
However, simply because this did not "work as planned," you must not choose the victim role. Search for the next opportunity.
Thomas Edison did not succeed -- until hundreds of tries. Colonel Sanders was 65 years old before his "special recipe" launched Kentucky Fried Chicken. So, you fell off the horse. Get back up, dust your demoted self off, and "get moving."
The only guarantee we have is death. Until then enjoy the rewards (the education) that come from risk.
JIM BRACHER is founder of the Bracher Center for Integrity in Leadership in Monterey. His column, "Integrity Matters," appears Wednesday on the Business page. Readers are invited to submit questions on business-related ethics and values. Please write in care of INTEGRITY to newsroom@salinas.gannett.com. The center's Web site is www.brachercenter.com.